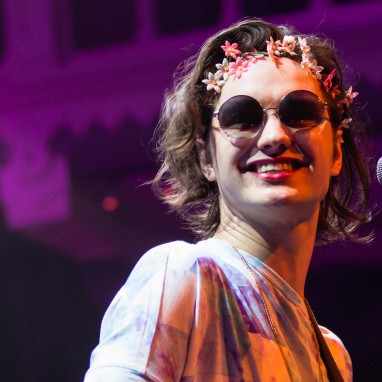 Jett Rebel (24) vindt het 'kortzichtig' van zichzelf dat hij niet biseksueel is. "Het zou fijn zijn om op allebei te kunnen vallen, maar nee, ik val echt op vrouwen."
Dat zegt de zanger in een interview met Linda magazine.

"Op een rare manier vind ik het bijna kortzichtig van mezelf dat ik niet biseksueel kan zijn. Ik kan wel tegen een vriend zeggen dat ik hem superaantrekkelijk vind, heel lief of mooi, maar verder gaat het niet", aldus de 24-jarige zanger, die eigenlijk Jelte Tuinstra heet.

Rebel zou het fijn vinden om de vrijheid te krijgen om zo af en toe een jurk aan te trekken. "Soms vind ik een bepaald motief of stofje erg mooi en ik heb ook de juiste taille; vrouwenkleren vallen bij mij gewoon goed."

De zanger is opgegroeid in Baarn, waar hij zich nog altijd thuis voelt, ondanks dat hij er werd gepest. "Er wonen veel bekrompen mensen die je, als je een beetje gekke kleren draagt, al snel voor homo uitmaken. Het was voor mij een enorme opluchting toen ik naar Amsterdam kon gaan waar ik nepbontjassen en dat soort dingen kon gaan dragen."

Bron bericht:
Deze kus van Michael Prins (3FM, links) was waarschijnlijk bedoeld als classy kus op de wang, maar het eindigde op de mond van Jett Rebel (rechts).
Bron foto: .